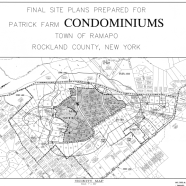 It seems discouraging when the Planning Board rushes through the review process and just approves again plans which are not ready for approval. This was done yet again this past January but remember this isn't the first time this has happened. ROSA fought the final decision made in 2012 and again in 2013 and both times the developer was forced back to the planning board. This fight is still being fought and here is an update.
On January 26, 2016 there was a planning board meeting with a public hearing held after a number of December maneuvering by the developers getting several Town Board resolutions passed to deal with the technical issues of an over dense development.
Town of Ramapo Site Development Plan Rules and Regulations require for Final Approval  "All required State and County permits (Department of Environmental Conservation, Department of Transportation, Rockland County Highway Department)" but not in this case. This project was not ready to be approved and even with tons of testimony submitted, the Planning Board, didn't even read a word before approving the Amended Findings the first night and set up a meeting for the following night to approve the plans.
Of course this led to ROSA's 6th Article 78 against the Town of Ramapo for yet another poor. On February 26th we filed a Verified Petition which kicked off a process that usually only lasts a few months but things have gotten complicated over the years so it is still actively going on.
The big hold up was resolving what paperwork constituted the "record" for the decision. After Terry Rice's motion related to our appeal record, we had to make sure that the Town Record was actually complete. This prolonged the normal timing of this Article 78. Following the receipt of the Town's Record and Return we filed an Amended Petition on September 29. We received replies from the Town and from Terry Rice and are working on our reply.