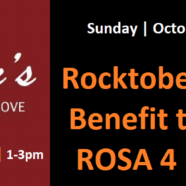 WHEN:      October 15, 2017 – noon - 3:00pm
WHERE:   @ Krucker's Catering and Picnic Grove 81 Call Hollow Road Pomona, NY 10970
TICKETS:  $60 in advance /$70 at the gate for adults. Under 18 - $18 in advance/$20 at the gate
A special concert & dining event will take place on Sunday, October 15th, 2017 featuring local favorite Ross Pilot and Formation to benefit ROSA 4 Rockland (Ramapo Organized for Sustainability and a Safe Aquifer) to ensure that ROSA can sustain the legal battle to protect the community and the local water supply through the lengthy appeals process.  [A ROSA information booth will be staffed to answer questions about ROSA's efforts.]
Formation – led by local Ramapo resident Ross Pilot (well known for his stunning aerial photography) - is a widely popular local band who has been playing throughout the tri-state area for a over a decade and is well loved here in Rockland.  It's sure to be an evening of great entertainment in a bucolic scene, for a worthwhile cause.
The ROSA Benefit Concert will be held at the famous, historic, and naturally beautiful Krucker's Catering and Picnic Grove, which is located in close proximity to the Patrick Farm property. A complete cookout style dinner including beer and wine is included in your ticket price.
The show will kick off with an opening set by "Pop & Blues Duo" Pat Maturo and Roger Astudillo. A classic grilled luncheon will be served from 12:00 till 2:00 and wine and beer will continue during the concert.
ROSA 4 Rockland, Inc. is a 501c3 not-for profit and funds raised go directly to pay the litigation expenses of ROSA's ongoing legal battle against the planned over-development of the nearby Patrick Farm property. Proceeds from this event are tax-deductible to the fullest extent of the law.
For more info call: ROSA 646-470-ROSA (7672)
** BUYING TICKETS ** 
This is a benefit so please commit today to supporting ROSA and reserving your spot for this wonderful event.