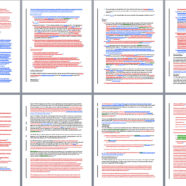 After all this time, we thought we had seen everything. Boy were we wrong!
Little did we know that the Town Planner had actually been doing a great job detailing everything that was wrong with this project.
Who would have thought that the town would hide these and other critical reviews from the public and, possibly, from the very boards that were tasked with making the decisions?
To get a sense of the magnitude of the suppression of John Lange's original comments versus what he was allowed to keep in the record we invite you to compare his July 14, 2009 document that Town refused to produce until recently ordered by  Judge Walsh to the October 15, 2009 document that was allowed to be included in the public record.
What John Lange wrote in July 2009:
2009-07-14 FPC Lange Draft Review Memo to MLK - PF DEIS Review
What John Lange was allowed to include for public consumption:
2009-10-15 FPC DEIS Review Final Comments
Our attempt to compare these two documents using MS Word:
July 14 to Oct 15 Comparison
Discovery is continuing in this case and we remain intrigued at what else we might learn about the Town's handling of this project.